About the propeller, The propeller was produced by Warsztaty Centralnych Zakładów Lotniczych in Warsaw. Probably it is a copy of British original propeller. Propeller survived in the form of a hub and one blade. Unfortunately the front of hub was cut off to mount a clock or barometer which was very popular those days. Characteristic feature of this propeller is odd number of 9 bolt holes. The airscrew has 1516 serial number and AN2 type designation. It is possible that it means: "ANgielski 2 typ" (English type 2). Then next question appears which plane was type 1? Serial number is repeated on front and rear of hub together with Z810 marking. Maybe is it order number?

Construction, The propeller lamination consists of nine ash plies. Diameter of propeller is about 291 cm and the pitch is 200 – 224 cm. The propeller has not metal sheathing on leading edge. The propeller is covered with clear varnish. There is well preserved red and white decal with WCZL logo on a blade.
Aircraft and Engine, The propeller was used on British Airco DH-9 airplane. This two-seater light bomber was powered by Siddeley Puma 230 HP engine. In Poland there were 20 DH-9 aircraft which were given by British government. Those planes were sent to Poland in April and May 1920. After assembly they were sent to 5th and 6th Eskadra Wywiadowcza (Reconnaissance Squadron). Three Dh-9s were lost during Polish- Soviet war. By the end of 1922 there were still 17 planes in Polish inventory (10 were complete and 7 without engine). Five DH-9s were repaired and were given to Estonian Air Force. Several DH-9s were used in Training Squadron of 4th Air Regiment in Toruń until 1925. The last remaining aircraft were scrapped in 1928.
References:
A. Morgała "Samoloty wojskowe w Polsce 1918 – 1924" (Polish military aircraft 1918 – 1924),
Period Advert. Marshall-Fahlin propellers, 1932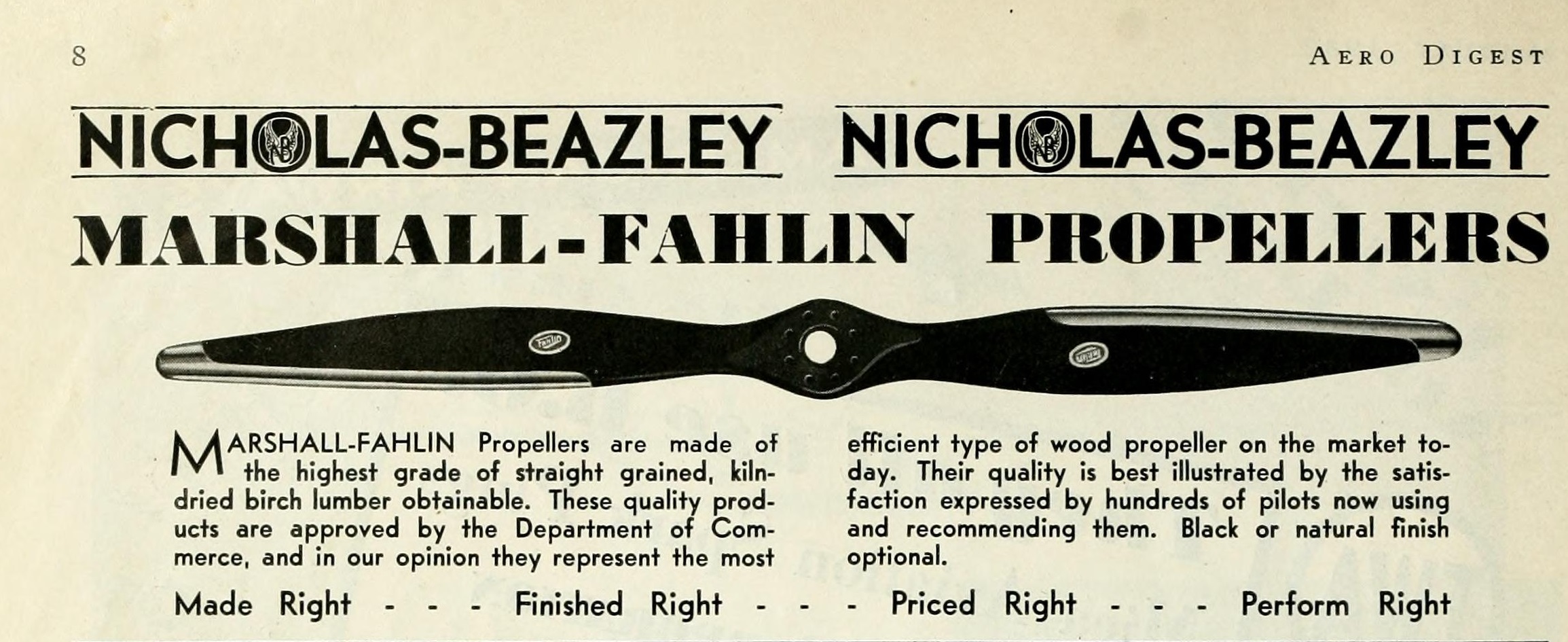 Period Advert. Hispano Suiza 1920s.