About propeller. The propeller was most likely produced  by RATIER manufacturer, France. Propeller has characteristic SERIE markings, widely spread date 7 – 8 – 26 (8), at the front central part and quality acceptance stamp – BC letters in hexagon – Bureau de Contrôle. Found in vicinity of Dęblin, now privately own (2021).
Construction. The propeller lamination consists of 11, ash plies. Propeller coating by black Tonkilaque. The outboard length of leading edge has aluminum sheathing.
Aircraft and Engine. The propeller must have been an original part of one of Potez 27 aircraft purchased by Poland, interwar time. The propeller was working with 12-cylinder, water-cooled in-line engine LORRAINE DIETRICH  12 Db, 400 HP.
References:
"Samoloty  wojskowe w Polsce 1924 – 1939" Andrzej Morgała, Bellona 2003
Period Advert. Ratier, 1939.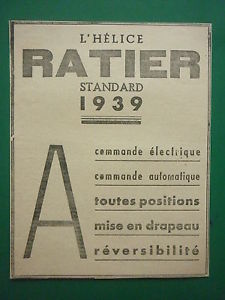 Period Advert. Ratier, 1924.