About the propeller. The propeller was produced by Szomanski Fatory. At the moment the propeller was received from Marek Wojenka (many thanks!), the prop was prepared to serve as a mould for glass-laminate copies. Prop was restored, leaving original numbers, date, producer and the engine type pressed on the hub. Pitch and diameter are partially  tarnished. As all the inscriptions were already polished, they could not be repainted. The propeller was restored and, repainted, the sheathing placed again. Replica decals of IKAR and TONKILAQUE  VARSOVIE were added. Now a part of private collection (2019).
Construction. The propeller lamination consists of 11 plies of ash wood. 1 mm thick aluminium sheathing fitted at the length of approx. 790mm, all covered by Tonkilaque coating.
Aircraft and Engine. The propeller was produced for early models of polish fighter PWS-10. For the moment it is the only known propeller and the piece preserved from this Polish built fighter. The prop was working with Lorraine Dietrich 12eb engine, 450 HP.
References:
TBiU 157, Tomasz Syga "Samolot mysliwski PWS 10",
Period Advert. Szomański.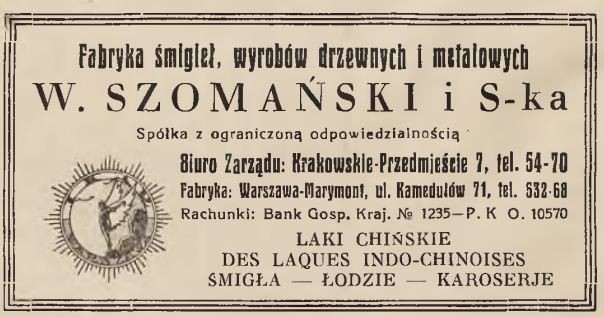 Period Advert. Klej Certus.