About the propeller. The propeller was produced by Polish factory WWS Samolot in Poznań. Probably it is a copy of original French propeller.
Construction. The propeller lamination consists of six ash plies. Diameter of propeller is 260 cm and the pitch is 173 -183 cm. The propeller has not metal sheathing on leading edge. The propeller is covered with clear varnish. On both blades the decals with Samolot's logo are placed.
Aircraft and Engine. The propeller was intended for French nine-cylinder rotary engine 80 hp Le Rhône 9C which was manufactured by Gnome et Rhône factory. The engine having 10,9 L capacity was rated at 80 hp at 1200 rpm. It was used in large numbers during the w.w. I. In Poland this engine was powering Hanriot H-28 training aircraft, manufactured under license by WWS Samolot factory in Poznań.
References: 
A. Morgała "Samoloty wojskowe w Polsce 1924 – 1939" (Polish military aircraft 1924 -1939)
Period Advert. WWS Samolot, 1920s.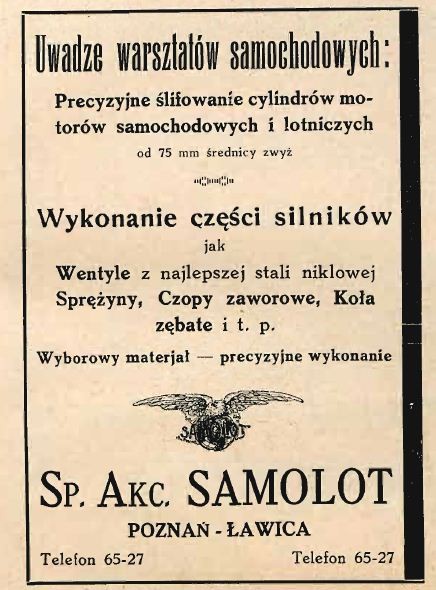 Period Advert. WWS Samolot logo, 1920s.